2011.05.16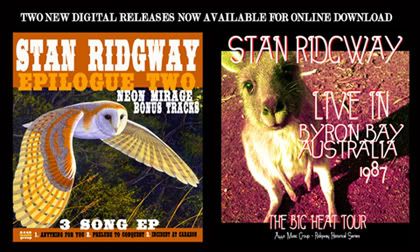 ---
2011.05.12

IN MAY - Shows on The East Coast and Texas !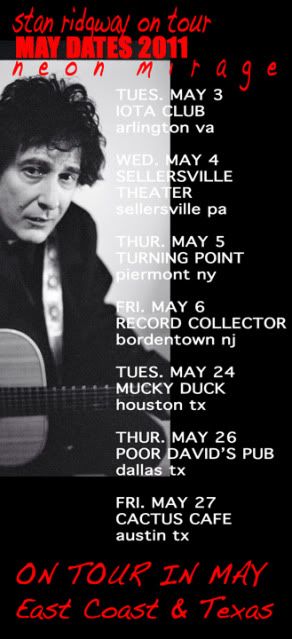 ---
2010.10.05

---
2010.04.11

New vid from Hecate's Angels from the CD
"Saints and Scoundrels" - dir. by Carlos Grasso
Click HERE to purchase CD or download tracks.
Pietra Wexstun on Facebook HERE.
---
2010.01.07

Now at Amazon.com
http://www.amazon.com/Dark-Continent-Call-West-Voodoo/dp/B002QF32BG/ref=sr_1_5?ie=UTF8&s=music&qid=1257682544&sr=8-5
---
2009.11.25

---
2009.08.24
"My Beloved Movie Star" Video by Rick Fuller
from the DVD "Holiday In Dirt"
ITUNES. The direct to Ridgway link:
---
2009.08.21

Stan Ridgway, Pietra Wexstun & Friends
with Ralph Carney, Rick King, JT Lazar and more!
Purchase: Silly Songs For Kids Vol. 1
---
2009.08.13
2009 - "Snakebite" and "BBQ Babylon" in stores and at ITUNES!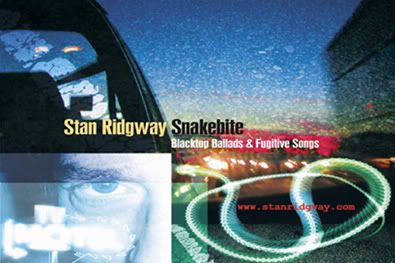 The Wire (UK) SNAKEBITE: BLACKTOP BALLADS AND FUGITIVE SONGS
Stan Ridgway at ITUNES:
Former Wall Of Voodoo singer/songwriter Stan Ridgway's eighth solo album is a glorious hard-boiled Hollywood road movie for the ears (complete with suitable sound effects) which takes the listener on a tumbleweed journey in three acts through his dark imagination. Ridgway's lyrical talent for detail, combined with a cactus spiked humor and sense of melancholy, is what gives Snakebite its fang, and his songs ripple with observation and atmosphere. The best of these are "King For A Day". a wild ride in a stolen car that ends up crashing into the side of a house. A chance meeting with Andy Warhol that develops into "Our Manhattan Moment ", and "Talkin' Wall Of Voodoo Blues Pt. 1" where Ridgway scathingly relates the rise and fall of his old band and the various record company and managerial rip offs that eventually tore them apart. If you are only familiar with Ridgway's work through, what he refers to here as "that radio song", then Snakebite is an invitation to get better acquainted. Long may he run. - Edwin Pouncey
"Into The Sun" - a fan generated video !
A short promo video for Stan Ridgway & Drywall's BARBEQUE BABYLON.
---
2009.07.15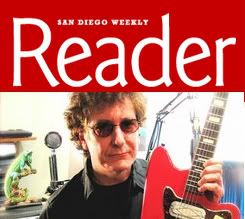 SAN DIEGO READER http://www.sandiegoreader.com/news/2008/feb/13/note-wc/
STAN RIDGWAY - Belly Up Tavern, Tuesday, Febuary 19, 8 p.m. 858-481-9022.
By William Crain | Published Wednesday, Feb. 13, 2008
"We were not really part of that whole MTV, new wavey thing," says Stan Ridgway, speaking about his old band, Wall of Voodoo. This comment may come as a surprise to the many poor souls who remember Wall of Voodoo only for their weird 1982 hit "Mexican Radio." Ridgway intends to catch them up with a concert showcasing "Mexican Radio" and other songs from Wall of Voodoo's Call of the West.
"I like to describe 'Mexican Radio' as an accidental MTV hit," Ridgway says. "We were at that point where MTV needed things to play. And as MTV took off, so did the videos they were playing. I think a lot of people who purchased the record or came to see us, they got more than they bargained for. It wasn't just happy-go-lucky stuff. Some of it was interestingly dark, as is my interest. My favorite films, all that stuff. The American promise is filled with stories like that. It's almost inexhaustible."
Ridgway talks like that. Like the characters he plays in his songs, both in Wall of Voodoo and his solo career, he's full of wry humor and tweaked clichés. "Part of the charm of the old music was that it was sort of a juxtaposition of the electronic and the old earthy sounds of the electric guitar," Ridgway says. "I don't think that had really been done as much as we did it. There were mostly electronic bands like Kraftwerk or there were the rockabilly-type bands like the Stray Cats. They had the twang, and the other guys had the drone. And I think what we did was we put the drone with the twang. So we had…dwang? Something like that?"
STAN RIDGWAY, Belly Up Tavern, Tuesday, Febuary 19, 8 p.m. 858-481-9022. $18.
---