2009.07.01
CLICK HERE: Ridgway headlines Norway's "Down On The Farm" Festival Aug. 7 & 8.
---
2008.11.10
Out Now
Mark Ryden "Blood" CD Soundtrack - Jewelbox Edition.
Score by Stan Ridgway and Pietra Wexstun
Available now from A440 Records and stanridgway.com
---
2008.08.24

Stan Ridgway Audio Interview Online

Lengthy discussion includes Stan's beginnings in music

and early influences, his solo career, the early days of Wall Of Voodoo, recording, Drywall, upcoming dates in the UK and yes, baked beans, ventriloquism, magic, and more.
---
2008.04.11

Rogue's Gallery: Pirate Ballads, Sea Songs, & Chanteys
"Featuring a crew that ranges from cult heroes (Stan Ridgway) to platinum-club rock stars (Bono) to folk icons (Eliza Carthy) to Hollywood actors (John C. Reilly), Rogue's Gallery is like a well-stocked treasure chest." - GeorgiaStraight.com
---
2008.04.02
INTENSE 'N' KINDA SHADY
TUCSON WEEKLY REVIEW
Though he'll never live down his former band Wall of Voodoo's '80s classic "Mexican Radio," Stan Ridgway has, since then, released 10 or so mostly excellent albums full of the musical equivalent of film noir--lots of shady characters stuck in lots of shady situations.
He last performed in Tucson almost two years ago at Club Congress, as part of the TapeOpCon music showcase, and he put on one hell of a show for those who could pull themselves away from M. Ward's equally riveting set in the parking lot. My memories of that show: Yes, he turned in a killer version of "Mexican Radio," but also a jaw-droppingly intense take on Mose Allison's "Monsters of the Id," which he spewed in the direction of our current commander in chief: "They're fightin' fire with gasoline / The creatures from the swamp / Rewrite their own Mein Kampf / Neanderthals amuck / Just tryin' to make a buck / And goblins and their hags / Are out there wavin' flags / Oh, when will we be rid / Of monsters of the id." He turned so red that he resembled Saturday Night Live's Will Forte doing his best Zell Miller impersonation. Translation: intense.
In fact, the whole dang set was pretty freakin' awesome, which is why we're so pleased that Stan Ridgway will be returning to Club Congress, 311 E. Congress St., on Saturday, April 5. Doors for this early show open at 7 p.m., with opener the Voodoo Organist taking the stage around 8 p.m. Tickets are $12 in advance, or $14 on the day of the show. For more information, call 622-8848.
---
2008.03.11

Go to TOUR PAGE for details
---
2008.02.27

---
2008.01.15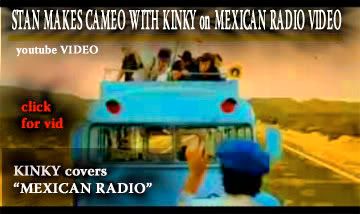 ---
2007.10.30
THANKS TO ALL! for coming out to our USA Tour 2007!
Great crowds and plenty of old friends brought new friends, and some who even maybe had not been outa their HOUSE in 25 years! And it was a TOTAL BLAST! Here's the band onstage at the Highline Ballroom NYC August 8th - Pietra Wexstun (keys,vcs) Stan Ridgway (guitar, harmonica, vcs) Joe Berardi (drums, perc.) Rick King(guitar,vcs). Thanks again everyone for making this one of our best tours EVER.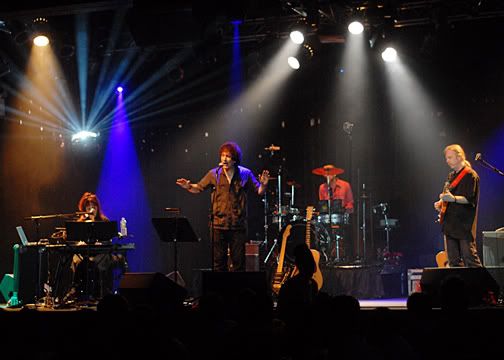 From the Austin Chronicle - Cactus Cafe, Austin TX Jul 23 – 24
It's been 25 years since L.A.'s seminal Wall of Voodoo released Call of the West, and that calls for a drink. The album's dusty, Barstow-to-Bakersfield, Ross Macdonald-meets-Edward G. Ulmer in a Death Valley Detour to nowheresville title track and grimly optimistic film noir narratives still reverberate across the musical Route 66 Voodoo frontman Stan Ridgway paved, roadkill and all. It's the closest musical approximation yet of that hardscrabble, postwar, westward wanderlust to rush headlong into the unknown, "And above all to get a fair shake, to get a piece of the rock, a slice of the pie, to spit out the window of your car and not have the wind blow it back in your face ... ." Ridgway's post-Wall of Voodoo output has, if anything, cemented his neo-noir rep as one of American music's great storytellers, the wild and wily Steinbeck of sad whiskey railroads and rusted, ramshackle American dreams.."
- Marc Savlov / Austin Chronicle
---
2007.09.01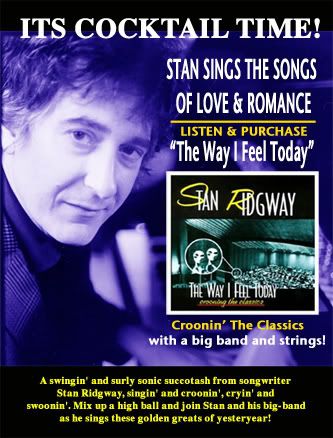 ---