2007.08.28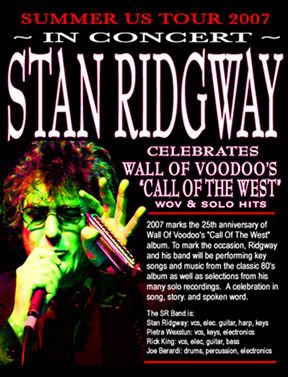 2007 Stan Ridgway Summer Tour of USA
STAN RIDGWAY celebrates Wall of Voodoo's "Call of the West" (wov and solo hits)
2007 brings the 25th anniversary of Wall Of Voodoo's "Call Of The West" album. To mark the occasion, Ridgway and his band will be performing key songs and music from the classic 80s albums as well as selections from his many solo recordings. A celebration in song, story and spoken word.
The Stan Ridgway Band is: Stan Ridgway: vcs, electric and ac. guitar, harmonica Pietra Wexstun: vcs, keyboards. electronics Rick King: vcs, electric guitar and bass Joe Berardi: drums and percussion, electronics JT Lazar: stuff and nonsense
From the Austin Chronicle - Cactus Cafe, Austin TX Jul 23 – 24
It's been 25 years since L.A.'s seminal Wall of Voodoo released Call of the West, and that calls for a drink. The album's dusty, Barstow-to-Bakersfield, Ross Macdonald-meets-Edward G. Ulmer in a Death Valley Detour to nowheresville title track and grimly optimistic film noir narratives still reverberate across the musical Route 66 Voodoo frontman Stan Ridgway paved, roadkill and all. It's the closest musical approximation yet of that hardscrabble, postwar, westward wanderlust to rush headlong into the unknown, "And above all to get a fair shake, to get a piece of the rock, a slice of the pie, to spit out the window of your car and not have the wind blow it back in your face ... ." Ridgway's post-Wall of Voodoo output has, if anything, cemented his neo-noir rep as one of American music's great storytellers, the wild and wily Steinbeck of sad whiskey railroads and rusted, ramshackle American dreams.."
- Austin Chronicle
Stan Ridgway May 6 @ McCabe's
By Anthony Miller
Stan Ridgway's songs tell stories of the kind Mark Twain describes in his "How to Tell a Story" – humorous, incongruous, indisputably in the American grain – replete with characters speaking as if entirely in cryptic pick-up lines, hatching schemes and imagining masterplans that can only go awry, engaging in getaways, pushing their luck and offering explanations for the deals that transpire without them.
"Behind every fortune," thinks a character in Ridgway's "Down the Coast Highway," echoing a famous statement of Balzac's, "there's got to be a crime." Then there's the storyteller's unmistakable delivery, ranging from the deadpan to the deranged, with bursts from his harmonica to fill out the landscapes.
As he warbled his funny, eerie and melancholy tunes at McCabe's, Ridgway was utterly captivating, even when he tuned his guitar or unraveled a microphone cord from his mic stand.
Accompanied by Rick King on guitar, Amy Farris on viola, Joe Berardi on percussion, and Pietra Wexstun on keyboards, Ridgway performed older numbers like "Calling Out to Carol" and "Peg and Pete and Me" alongside "Wake Up Sally (the Cops are Here)" and "King for a Day" from what he called his "latest opus," 2005's Snakebite: Blacktop Ballads and Fugitive Songs.
The former Wall of Voodoo frontman performed slowed-down versions of his '80s hit "Mexican Radio" and "Camouflage," his tale of a soldier's encounter with a benevolently belligerent poltergeist in the Vietnamese jungle. He delved into "deeper Tarzana" with "Knife and Fork," a declaration of love where cutlery has never sounded more amusingly lurid.
His stirring version of "Underneath the Big Green Tree" was among the best songs of the night and probably the best of the songs taken from his underrated 1995 Black Diamond. Riding along with Ridgway's songs, the audience traveled all over the map, stopping to check out a carnival here, a roadblock there and finally a madcap barbeque, (Ridgway and side project Drywall's 2006 "BBQ Babylon") before a grateful Ridgway put on the brakes, offering his thanks to the crowd.
Ridgway and band will be on tour this summer all over the US.
http://www.campuscircle.net/review.cfm?r=3446
---
2007.02.26

This PBS program also contains interviews with some of America's most famous musical and cultural icons — including Wynton Marsalis, Les Paul, George Duke, Stan Ridgway, Hugh Hefner and film historian Leonard Maltin. Check your local listing for times in early March.
---
2006.07.29
TOUR NEWS / Ridgway in the UK with Pere Ubu
The Stan Ridgway Trio will perform as "special guest" of the great PERE UBU at the Mean Fiddler Tuesday Oct. 24th in London, England this fall.
More Ridgway dates surely will be booked around this one, but this is the ONLY one at this time with PERE UBU. Stay tuned...and as soon as we know more, you will as well.
New Work from Stan Ridgway and Co
---
2006.07.23

2 CD set to be released August 22nd.
"ROGUE'S GALLERY: Pirate Ballads, Sea Songs and Chanteys"
A collaboration from Music producer Hal Wilner with actor Johnny Depp and film director Gore Verbinski
Read about it by following the link below to the bulletin board and also listen to Stan sing "Hangin' Johnny" from this great collection.
Link for HANGIN' JOHNNY mp3 and information on the recording
---
2006.07.21
Rogue's Gallery official press release now available! Epitath / Anti Records
Wednesday July 21, 2006
GORE VERBINSKI, JOHNNY DEPP AND HAL WILLNER
JOIN FORCES WITH ANTI RECORDS FOR THE AUGUST 22 RELEASE:
"ROGUE'S GALLERY: PIRATE BALLADS, SEA SONGS & CHANTEYS
BONO, STING, LOU REED, BRYAN FERRY, JOHN C. REILLY, RICHARD THOMPSON, LOUDON WAINWRIGHT III, STAN RIDGWAY, LUCINDA WILLIAMS ARE AMONG THE DIVERSE ARTISTS ON THIS TRULY EXTRAORDINARY COLLECTION
"The ocean. It's all about the vast blue that engulfs two thirds of the planet. The human being cast against that abyss creates an interesting bit of perspective. I think the sailors of the time were dancing with death, and these were their tunes. They resonate with people on some internal level that is not immediately obvious because it's not in our memory, it's in our blood. It operates on a cellular level. It's what makes us feel so alone.
--Gore Verbinski
Film director GORE VERBINSKI, actor JOHNNY DEPP and music producer HAL WILLNER have joined forces with ANTI RECORDS for the truly extraordinary two-CD set ROGUE'S GALLERY: PIRATE BALLADS, SEA SONGS & CHANTEYS. Due out August 22, the collection is filled with contemporary reinterpretations of songs from a genre of music that has all but disappeared. BONO, STING, NICK CAVE, BRYAN FERRY, LOU REED, LUCINDA WILLIAMS, LOUDON WAINWRIGHT III, RICHARD THOMPSON, STAN RIDGWAY, GAVIN FRIDAY, VAN DYKE PARKS, ANDREA CORR and RUFUS WAINWRIGHT are only a few of the distinguished artists who turn in uncompromising and honest performances that illuminate the power of traditional sea songs.
The idea for ROGUE'S GALLERY originated when Verbinski and Depp were working on their second film together, the upcoming Pirates Of The Caribbean: Dead Man's Chest. "I slowly became fascinated by the idea of a contemporary reinterpretation of the sea chantey,ä explains Verbinski. "I imagined the artists that I listen to and respect doing their take on this age-old music: the song of the sea.
Verbinski then "described the project in detail to my old friend Brett Gurewitz (owner of Epitaph and Anti) who immediately understood its wondrous and strange potential. I also asked Johnny Depp if it might be something that he would like to be involved with. He has a great musical aesthetic, and as my partner in the films, his opinion is one I value. I've always believed Johnny is a musician first and the actor thing is just his day job. We met with Brett and put together a list of artists that we intended to go after, but were immediately confounded with the question: who would produce? Who would be mad enough to take this on?
The project took shape when Hal Willner became "the captain of this vessel,ä says Verbinski. "From that germinating withering pubic hair of an idea, Hal set sail and returned with what you hear today. He did everything.ä Willner brought his knack for matching maverick musicians with extraordinary material to the project, as shown on his best-selling Disney tribute album Stay Awake and his acclaimed tributes to Kurt Weill, Charles Mingus, Nino Rota and others.
"When I was asked to do the album, I went into a world I didn't know--which is what appealed to me,ä says Willner. Immersing himself in antique bookstores, eBay, old record stores, and the Internet for hours and hours, Willner collected some 600 songs and then went about narrowing the song selection down for the album. In March 2006, the recordings began--and the process was joyously freewheeling.
"We were just crawling around, just seeing who was around,ä he explains. "The Akron/Family was rehearsing, so we recorded them. And then we found Baby Gramps. And that's kind of how we worked all over. We'd go up to London or Dublin or to New York and L.A., with just a sketch and one or two things planned. And then we got on the phone. Most of the time people just came into the studio. We picked a song, and they went for it. Basically there were a number of house bands: one in London, one in Dublin, one in New York, two separate ones in L.A., one in Seattle. We would camp and people would come in and leave or join in for the whole day. One day we did eight songs with eight different artists. Two of those artists didn't know they were going to be in the studio that day. I just loved working this way because you wouldn't do that with an artist normally.
Asked about the Sting contribution "Blood Red Roses,ä Willner says, "He was totally natural for this subject. He comes from Newcastle. He grew up hearing these things--it's interesting how you hear a lot of little Beatles melodies in these songs. You know, Liverpool was a big port, and Australia and Maui and Cape Cod. Sting grew up with a lot of these songs, as did John C. Reilly. So he just came over to the studio, I gave him some songs and he just jumped into the process.
60 songs were recorded for ROGUE'S GALLERY; 43 appear on the album. "Hopefully, there will be a volume two. I have half of it recorded already.ä Willner says: "I came to age in the late sixties and early seventies of variety shows and concept records. I look at these records like you're eating a full meal. There's always your entrŽe, your vegetable that you don't like but it's good for you. And you want to cover it all. You need to establish the unknown, the famous, the obscure. Usually in the past I've always found that the secret weapons on these records are any new artists because you're coming at it without expectations. And there's other people that you've heard for years--but on that side it goes to another level.
Willner is now anxious for others to discover the enchanting mystery of ROGUE'S GALLERY. "Obviously I want people to love it the way I do,ä he says. "I would hope that it works on a level where they just want to go and close their eyes and have an experience--and come out of it the same way I came out of it, wanting to hear more. Put this record in your collection as a classic--that was Gore Verbinski and Johnny Depp's idea.
Proud of what all of the artists have brought to the album, Verbinski says that the "recordings are vibrant, inspired, rough hewn, and imperfect in that way that only perfection achieves.
ROGUE'S GALLERY has a perfect home on Anti, the Epitaph Record-affiliated label known for releasing albums by classic renegade artists like Merle Haggard, Tom Waits and Nick Cave. Says Willner: "I think this was the original punk music in an odd way. You can hear it in songs like ÎBully in the Alley' and ÎA Drop of Nelson's Blood.' It's there.
The complete ROGUE'S GALLERY track listing is as follows:
CD 1
1. Cape Cod Girls - Baby Gramps
2. Mingulay Boat Song - Richard Thompson
3. My Son John - John C. Reilly
4. Fire Down Below - Nick Cave
5. Turkish Revelry - Loudon Wainwright III
6. Bully In The Alley - Three Pruned Men
7. The Cruel Ship's Captain - Bryan Ferry
8. Dead Horse - Robin Holcomb
9. Spanish Ladies - Bill Frisell
10. High Barbary - Joseph Arthur
11. Haul Away Joe - Mark Anthony Thompson
12. Dan Dan - David Thomas
13. Blood Red Roses - Sting
14. Sally Brown - Teddy Thompson
15. Lowlands Away - Rufus Wainwright & Kate McGarrigle
16. Baltimore Whores - Gavin Friday
17. Rolling Sea - Eliza Carthy
18. The Mermaid - Martin Carthy & the UK Group
19. Haul On The Bowline - Bob Neuwirth
20. Dying Sailor to His Shipmates - Bono
21. Bonnie Portmore - Lucinda Williams
22. Shenandoah - Richard Greene & Jack Shit
23. The Cry Of Man - Mary Margaret O'Hara
CD 2
1. Boney - Jack Shit
2. Good Ship Venus - Loudon Wainwright III
3. Long Time Ago - White Magic
4. Pinery Boy - Nick Cave
5. Lowlands Low - Bryan Ferry w/Antony
6. One Spring Morning - Akron/Family
7. Hog Eye Man - Martin Carthy & family
8. The Fiddler/A Drop of Nelson's Blood - Ricky Jay & Richard Greene
9. Caroline and Her Young Sailor Bold - Andrea Corr
10. Fathom The Bowl - John C. Reilly
11. Drunken Sailor - David Thomas
12. Farewell Nancy - Ed Harcourt
13. Hanging Johnny - Stan Ridgway
14. Old Man of The Sea - Baby Gramps
15. Greenland Whale Fisheries - Van Dyke Parks
16. Shallow Brown - Sting
17. The Grey Funnel Line - Jolie Holland
18. A Drop of Nelson's Blood - Jarvis Cocker
19. Leave Her Johnny - Lou Reed
20. Little Boy Billy - Ralph Steadman
---
2005.11.06
it's out again....
Wall Of Voodoo: The Index Masters - re-issue on rykodisc
now at Amazon.com
Though they found their fortunes intertwined in a punk/new wave/MTV marketing sensibility that typically confused style with substance, L.A.'s Wall of Voodoo was musically rooted in a distinctly different, often more compelling late '70s art rock ethos. Anchored by the stark, angular rhythms of the late Marc Moreland's guitar and singer/chief songwriter Stan Ridgway's sly sideshow barker vocal antics, this re-release of the band's debut 1980 EP (supplemented with raw, exemplary live tracks recorded at UC Riverside in '79) now seems more prophetic industrialmusic template than quirky new wave tract. If legend says their ominous, synth-drone take on Johnny Cash's "Ring of Fire" may have originally been intended elsewhere (WOV began as low-budget soundtrack collective), tracks like "Longarm" and "Can't Make Love" crackle with anxious energy and wit; small wonder Ridgway occasionally revisits them with success in his contemporary incarnation as acoustic singer/songwriter. The live tracks further showcase the band's cinematic bent via a medley of Morricone's main title for The Good, the Bad and the Ugly and Frontiere's Hang 'Em High theme, as well as offering up early versions of songs from Dark Continent and their 1982 classic, Call of the West.
--Jerry McCulley
---
2005.11.06
Stan Ridgway video director - Randall Jahnson writes 'GUN" for Neversoft
Director and Screenwriter, and Stan Ridgway video director, RANDALL JAHNSON: is in the NEWS!
Gun: The Randall Jahnson Interview
A revealing conversation with the writer behind Neversoft's upcoming western shooter.
by Douglass C. Perry
August 22, 2005 - Heading into this next generation of games, one of the things that players have clamored for above other elements is a well-written story....
Stan Ridgway Videos Directed by Randall Jahnson:
Purchase cds http://www.stanridgway.com
---
2005.11.02
Stan and Pietra now at Myspace.com
---------------------------------------
Rupert Murdoch may be watching. BUT we are there. Listen to tunes. Read our blogs. Virus with other kooks. Why not hop on board? God help us.
myspace.com links:
????Stan Ridgway
????Pietra Wexstun
---
2005.10.29
BOO! KTHK presents the Stan Ridgway Band at the El Dorado Hotel and Casino, Downtown Reno, Nevada, Saturday, October 29th 9PM - FREE!
---
2005.08.22
Brand new and out now! Summer 2005.
Buy it here!
---