March 2013
---

---
June 2012
---
---
November 2011
---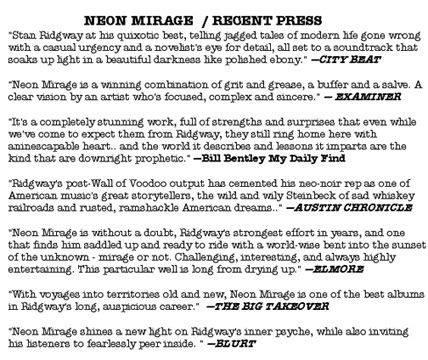 ---
Bledsoe: Ridgway's world a little lighter in 'Neon' By Wayne Bledsoe Friday, August 20, 2010
"Neon Mirage," Stan Ridgway (A440)
Stan Ridgway's world has always been a slightly spooky place. His songs can be a mixture of Jim Thomp-son novel, Ennio Morricone sound-track and Walt Disney-like whimsy - well, the sort of whimsy that Disney might have had if he had awakened with a hangover in a cheap motel on the outskirts of some dingy little nowhere town and decided the experience could be the jumping-off point for a fine family film. Ridgway's music is lovable, dark, sweet and strange. Ridgway's latest disc, "Neon Mirage," tells fewer stories, but seems as heartfelt and honest as anything he's created. While the songs were being written, Ridgway lost both his father and a beloved uncle. And, Amy Farris, who played violin on the disc, committed suicide before the album was completed. Questions of mortality and immortality definitely figure into the new songs. "Halfway There" is a surprisingly straightforward musing on knowing you're closer to the end of life than the beginning. Ridgway's cover of Bob Dylan's ballad "Lenny Bruce" is simple, elegiac and glides along with some beautiful violin work from Farris. And the album is bookended by "Big Green Tree," a tune that wonders about finding a home either in this life or the hereafter, and "Day Up in the Sun," a satisfied look back on a good life. Ironically, the album feels more optimistic than earlier discs. While these songs are an easy entry for novices into Ridgway's quirky universe, the Ridgway hallmarks still abound , including a loungey electronic keyboard mixing with the steel guitar on "Like a Wanderin' Star" (a number that sounds a little like an existential cowboy song); and a twangy instrumental harkens back to Ridgway's former band Wall of Voodoo. "Neon Mirage" lacks the wild tales and dark humor that made his last studio album "Snakebite: Blacktop Ballads and Fugitive Songs" so entertaining, but it's good to hear a different, maybe more raw, side of Ridgway.
---
---
The Wire (UK)
SNAKEBITE: BLACKTOP BALLADS AND FUGITIVE SONGS
REDFLY RECORDS 84812
Former Wall Of Voodoo singer/songwriter Stan Ridgway's eighth solo album is a glorious hard-boiled Hollywood road movie for the ears (complete with suitable sound effects) which takes the listener on a tumbleweed journey in three acts through his dark imagination. Ridgway's lyrical talent for detail, combined with a cactus spiked humor and sense of melancholy, is what gives Snakebite its fang, and his songs ripple with observation and atmosphere. The best of these are "King For A Day". a wild ride in a stolen car that ends up crashing into the side of a house. A chance meeting with Andy Warhol that develops into "Our Manhattan Moment ", and "Talkin' Wall Of Voodoo Blues Pt. 1" where Ridgway scathingly relates the rise and fall of his old band and the various record company and managerial rip offs that eventually tore them apart. If you are only familiar with Ridgway's work through, what he refers to here as "that radio song", then Snakebite is an invitation to get better acquainted. Long may he run.
---
Stan Ridgway: Neon Mirage [A440 Records] ****
By Brian Baker
Wall of Voodoo might well have been little more than a blip on the New Wave radar of the late '70s and early '80s if it hadn't been for the hypnotic menace of frontman Stan Ridgway. With the Voodoos and in his early solo work, Ridgway's delivered his darkly twisted and cinematically detailed word plays out of the side of his mouth with a distinctive vocal edge and the blackest sense of humor imaginable.
Although Ridgway had always been a creative chameleon, he made a bold musical statement with 1996's Black Diamond, an album that established the fact that Ridgway had absorbed many influences and wasn't the least bit interested in merely parroting them. His subsequent work ran the gamut from dark Pop songs with a filmic quality to weirdly ambient soundscapes to actual film scores.
Ridgway's latest solo album, Neon Mirage, was forged in the furnace of personal tragedy; he lost his father and uncle while recording the album, and violinist Amy Farris, then a part of producer Dave Alvin's Guilty Women, took her own life in the midst of contributing to the Neon Mirage sessions. Whether by direct inspiration or intuitive prescience, Ridgway's work on Neon Mirage draws on some of his earliest influences, particularly the Marty Robbins and Hank Williams albums that populated his father's record collection.
But even as Ridgway explores his inner desert balladeer on "Like a Wanderin' Star," "This Town Called Fate" and "Halfway There," the songs are always steeped in his typical storytelling intricacy and dark melodic appeal, from the Morphine-touched Jazz bleat of "Turn a Blind Eye" to his brilliant spin on Bob Dylan's "Lenny Bruce" to the vintage Ridgway anti-war lope of "Flag Up On a Pole" and the slinky, kinky noirish detective-theme Blues of "Scavenger Hunt."
Ridgway's work is always passionate and completely compelling and Neon Mirage is no exception, but Farris' tragic suicide, after years of struggling with the tyranny of depression, provides an even more poignant tint to the album, as her final violin performances haunt the album in the best possible way. Neon Mirage is Stan Ridgway at his quixotic best, telling jagged tales of modern life gone wrong with a casual urgency and a novelist's eye for detail, all set to a soundtrack that soaks up light in a beautiful darkness like polished ebony.
---
Ridgway's Storm blows through 30 years of song By ANDREW DANSBY / Houston Chronicle
Stan Ridgway opens up with a downpour of words while driving a van 90 mph past Barstow, the California desert town that partially inspired the smart, eerie pop music he's been making for the past three decades.
"In some way, as I've gotten older, I've realized what Barstow did to me," he says on a cell phone that eventually blinks out a few minutes after he passes the town. "I think it scarred me. There was literally nothing out there in front our house of me to see. Your eye could wander for miles. So in a sense, I don't know, maybe I filled in those gaps with my imagination."
Ridgway's imagination was initially drawn to creatures like werewolves and Frankenstein's monster, "who just wanders the earth trying to make friends until an angry populace tries to stop him … you can see why a kid would be drawn to that." His family moved to Los Angeles, and his parents split. He had a grandmother who told tall tales that often turned out to be true, or at least partially true. He watched a lot of "great movies that academics called film noir."
Those influences are all evident in Ridgway's writing. He's a unique stylist and arguably the most under-appreciated songwriter of the past 25 years. His songs are deliciously musical, with big melodic parts and snappy instrumentation that suggests a love for pop, garage rock, country and Broadway in equal measure. They're lyrically dense, too: Sometimes they're intricate fictions about characters that seem to have wandered in from a Jim Thompson novel; other times they're Ridgway's take on historical figures like Wild Bill Donovan, the OSS head who became the "father" of the CIA.
Admittedly Ridgway's voice isn't what you'd call traditionally pretty. It's a deep, nasal thing, with an touch of robotic detachment that perfectly suits his chilly narratives. It's bracing on first exposure, not cold, exactly, but perhaps a little like a voice you'd expect to hear in a David Lynch film.
"Maybe I'm weird," he says. "I don't feel weird, though. I think the rest of the world is weird. I'm doing exactly what I should be doing and it makes perfect sense to me.
"I think everybody else is out of their mind."
Like an able but doomed gumshoe in one of those films noir, Ridgway can't entirely get away from the perception that he's a one-off voice and author of a weird solitary hit. In a way, he's spent two decades trying to get away from the '80s. It was during that decade that he made two excellent albums and an EP with the band Wall of Voodoo only to be relegated unwillingly to novelty status for the single Mexican Radio, a song about alienation that has, over time, been inexplicably cast as an oddball party anthem. Its presence on compilations alongside work by the likes of Flock of Seagulls is akin to Nick Drake's Pink Moon being forced to bunk up with Lynn Anderson's Rose Garden.
Escaping the '80s is difficult for musicians whose first prominent impressions were made during that decade. Duran Duran endured more than a decade of ridicule (much of it justifiable) before being swept up into a new New Wave a few years ago. Aimee Mann of 'Til Tuesday got through because of an independent streak and a lucky film break. Colin Hay of Men at Work required a patron in Zach Braff to get a second chance. Ridgway, like Hay and Mann, parted ways with his band in the '80s and has released consistently excellent recordings since. But several of his albums have fallen out of print, which is troubling because the songs deserve better. And for all the huzzahs cast upon DD, the modern skinny-tie set that includes bands like Interpol owe more stylistically to Ridgway and Wall of Voodoo than to Simon Le Bon and the Durans.
"First impressions are hard to beat," Ridgway admits. "If you come up at a time where most people discover you on MTV, that's a lasting impression. It's hard to change an actual picture if people haven't kept up with you."
Ridgway calls en route to Utah. He's on the Sandstorm of Song Tour, which passes through the Dosey Doe tonight. Joined by wife and long-time collaborator Pietra Wextun (keys, melodica, vocals) and Rick King (guitar, bass), Ridgway is running through nearly three decades of his music including songs from Desert of Dreams, a new album that isn't due until July. "It's a little like going to a theater and seeing clips from a movie coming next summer," he says.
The show will offer an opportunity to hear Wall of Voodoo songs, while still showcasing Ridgway's work in the years since. For someone who so often looks back for inspiration, Ridgway has been prolific in moving forward, releasing something new every two to three years. He recalls an interview the late Ed Bradley did with Bob Dylan. Bradley asked the songwriter if he thought he could write songs like a few of his '60s classics again. Ridgway says, "Bob looked up from his pants and said, 'No, but I can do other things.'
"What happens is you move along. I wouldn't mind repeating myself, but I don't try to. I guess it's all united because it comes from my attraction to the darker side of the road … a kind of Americana from a bygone era."
That duality creates an intriguing tension in Ridgway's work: Stylistically, he's fascinated by yesterday, thematically he's worried about the day to come. He is, after all, the guy who wrote, "what's wrong with tomorrow?," knowing full well that tomorrow is a yard full of rakes.
So he takes his cinematic visions of the future and crunches them into three-minute songs so full of music history as to seem almost era-less. "I like the idea of the condensed idea," he says. "And I'll let you in on a secret: The ideas come to me when I'm driving 90 miles per hour toward Utah."
---
Music Minded: http://newwavegeo.blogspot.com/2008/03/stan-ridgway-interview.html
---
October 2011
---
---