October 2011
---
Barbeque Babylon
Stan Ridgway/Drywall
Review
by Hal Horowitz
Continuing an on-again/off-again relationship with his Drywall side project that began in 1986 with Work the Dumb Oracle, the third album in Stan Ridgway's "trilogy of apocalyptic documents" isn't substantially different from his better-known solo work, at least on this 2006 release. His carnival barker vocals, bizarre lyrics, and shapeshifting cinematic soundscapes are in fine twisted form as the songs morph from the moody, bluesy harmonica-laced "Bury the Pope" to the more experimental subtle electronica textures of "Rain on Down" and the whimsical, Tex-Mex party atmosphere of "Goin' on Down to the BBQ." Co-Drywall conspirators/multi-instrumentalists Pietra Wexstun and especially Rick King are relegated to sideline status as Ridgway's distinctive vocals and lyrics dominate the proceedings. The diverse sounds combine aspects of Tom Waits (the percussive "The Alibi Room" sounds like an outtake from Rain Dogs), jazzy noir lounge ("Somewhere in the Dark"), Yello ("That Big Weird Thing"), and even world music ("Bold Marauder" is sung by Wexstun doing her best Grace Slick impression), but ultimately seem like Ridgway pushing his already elastic musical boundaries. At just over an hour, including a humorous bonus track that features sentences from George W. Bush speeches cut-and-pasted to mean something far different than what was originally intended, there is a lot to listen to here. Each track is overdubbed multiple times with layers of sound effects and instruments requiring repeated listenings to fully absorb. As with many Ridgway projects, the lyrical theme is obtuse but the music is so challenging, quirky, and innovative that the whole shebang is a mesmerizing musical trip. Anyone already a Ridgway fan will be thrilled, and open-minded newcomers might find enough of interest here to seek out his earlier, arguably more cohesive albums. Barbeque Babylon is a fun, often but not always lighthearted romp with the participants obviously enjoying themselves by painting a sonic palette the equivalent of '60s pop art. Part pastiche, part storytelling, and part experimental, the album finds Ridgway at the peak of his powers, creating music that demands attention even if at times it doesn't take itself seriously.
---
21 August 2010 Stan Ridgway – Neon Mirage (A440) by Michael Toland
Stan Ridgway is a brilliant iconoclast with a catalog as strong as that any more famous songwriter you'd care to name. Yet he's best known for a new wave perennial that borders on novelty. "Mexican Radio," the big hit from Ridgway's old band Wall of Voodoo, may be undeniably entertaining, but at this point it's only vaguely indicative of the work Ridgway has done on diverse, terrific solo records like The Big Heat (which spawned a couple of British hit singles), Black Diamond, Partyball and Mosquitos. There are uglier albatrosses to carry around (cf. the Who and "Squeezebox"), but one could argue that the song has stamped Ridgway as a one-hit wonder, at least in his home country, and that's mighty unfair.
Especially when the man has a record as strong as Neon Mirage in the offing. A song cycle inspired as much by loss as by living, Neon Mirage strips his signature sound down to the bare essentials, while still remaining as eclectic as always. Almost completely devoid of the electronic flourishes which have been such a staple of his work, the songs instead lean heavily on the folk direction in which he's taken his live shows in the past few years. There's a reason for the sparse backdrops – while Ridgway revisits familiar themes in tunes like the audio noirs "Scavenger Hunt" and "Turn a Blind Eye," the military critique "Flag Up On a Pole," the scenic instrumental title track and the character tribute "Lenny Bruce" (with a lovely violin solo from the late Amy Farris) most of these tunes swim in more thoughtful, reflective waters. A series of deaths surrounding the making of the album contribute to the wistful, melancholy tone of "Behind the Mask" and "Big Green Tree" (a Black Diamond cut recast here as a spare, gorgeous ballad produced by Dave Alvin). "Like a Wanderin' Star" sounds like Nashville country kitsch, but its Owen Bradley-influenced production suits the contemplative reminiscence of lost loved ones. Ridgway ponders his own mortality in "Halfway There," inspired by his recent losses but not paralyzed by them. The cautious optimism of "Day Up in the Sun" ends the record on an appropriately sardonic note.
Thoughtful and mature, Neon Mirage nevertheless avoids complete austerity with a rich palette of colors, provided by his keyboardist wife Pietra Wextun, longtime guitarist Rick King, woodwind maestro Ralph Carney, Farris or his own signature harmonica. Yet, as never before, every sound in the grooves serves the songs. The tunes in turn act as windows into Ridgway's soul, a view he's rarely offered before – even if the curtains aren't all the way open and the panes could use a cleaning. With voyages into territories old and new, Neon Mirage is one of the best albums in Ridgway's long, auspicious career.
---
September 2011
---
"The Mystery Train" Click here
---

Knowing the Score - Stan Ridgway, who'll play Friday at the Coach House, is finding a welcome challenge in writing music for film.
By John Roos
The streets of Los Angeles are littered with people whose dreams have been shattered by bad luck or timing. Stan Ridgway, who was born and still lives in the City of Angels, hasn't faced that kind of disappointment because he's been living his dream for the past 20 years.
Certainly best known for his quirky, atmospheric art-rock–fronting Wall of Voodoo ("Mexican Radio," "Call of the West") and more recently as a solo artist–the veteran singer-songwriter is now immersed in another of his passions, composing musical scores for films.
Over the past few years, Ridgway has written the full score for five independent features, including director Tom Musca's "Melting Pot," a political satire starring Cliff Robertson and Paul Rodriguez that airs later this month on Showtime; the forthcoming "Error in Judgment," a murder mystery with Joe Mantegna; and "Speedway Junkie," an action-romance thriller starring Daryl Hannah and Jesse Bradford.
It's hardly surprising that Ridgway, who performs with his three-piece band Friday night at the Coach House in San Juan Capistrano, is a film buff. He brings a cinematic feel and storyteller's eye to his music, frequently creating offbeat characters and settings that tap into the darker, more complex crevices of the human condition. His musical masterpiece, the film-noirish "The Big Heat" (IRS, 1985) is equal parts Raymond Chandler, Rod Serling and Hank Williams.
Still, the transition to the big screen wasn't so simple.
"The real challenging thing about scoring films is that, unlike writing songs for an album, it's not about me," he said recently from his home in Venice. "It's a rather arcane craft, and I don't think a lot of people today know what a score really is. It's certainly not the pop or rock soundtrack that's often marketed as 'The Music Inspired by the Motion Picture of 'Fill-in-the-Blank'… "
"I see it as the adhesive that holds the film together. You need to dramatically underscore the action or scene and move it forward. But I think to do a good job requires a subtle, almost invisible touch. It's very cloying to be manipulative. By the end of the day, you shouldn't really know the score is there–unless you take it away."
At the same time Ridgway is looking to put his stamp on each film. "I think the best at doing this are people like John Barry, Ennio Morricone, Danny Elfman… . They've all developed a distinctive style that directors and moviegoers recognize," he said. "And look at what Thomas Newman added to both 'The Shawshank Redemption' and 'American Beauty.' "
"My approach is you have to be a musical chameleon of sorts with a good understanding of story, drama and continuity. I ask myself, 'What is the movie really about? Is it about murder or really a story of betrayal? Or maybe it's really about romance with murder in it.' There can be be lots of layers, and sometimes you have to give a director what the film needs, not necessarily what he wants. I've found that most directors with a healthy self-confidence are open to input and discussion."
Ridgway adds that what he has learned while writing scores has added depth to his songwriting for albums. That attention to detail–or as he puts it, "My ability to visualize a character or unfolding scene in my mind"–is evident in his new release, "Anatomy" (New West Records).
For instance, there's the feel of a less-complicated era in "Mama Had a Stove," where a rusted paddle boat churns up the Mississippi River. Or how about the ambiguous feelings of "Mickey the Priest," where too much confession and communion can escalate into a state of commotion? And what's a Ridgway album without a little shame and guilt ("Susie Before Sunrise"), and blood-boiling jealousy and revenge ("Valerie Is Sleeping")?
What draws him to the Big Dumb Towns that are filled with the Wild Bill Donovans and Pink Parakeets of this crazy world?
"They're interesting," he said matter-of-factly. "I'm attracted to drama, paradox and the general absurdity and irony of life. There's that certain ambiguity about feelings that people have, and how things in life can be so random and unfair. Some things make sense, others don't. Why is that? I'm intrigued."
Despite his emphasis on life's downtrodden, often desperate misfits, Ridgway insists he's offering more than a one-act play.
"Particularly in L.A., I feel like I've been typecast, just like Warren Oates," he said. "People tend to stop at first base and say my songs are all about murder and crime. But much of what I'm saying is metaphorical and speaks to issues and feelings that are complex, maybe even contradictory. There's foreboding and danger, but there's also hope, forgiveness and redemption. Good and evil are not so black and white–it's a mixed bag, my friend."
Although Ridgway has released solo albums for Geffen and Capitol Records, he prefers operating outside of the commercial mainstream because "it's not about talent, really. Talent has become whatever makes money. On the indie level, it's about the work itself and staying clear about why I do it–which is for the pure art of it.
"I think more than anything else, though, I love playing music live," he added. "It cuts out the middleman… . You just show up and play. It's a very pure exchange, much like jazz was in the '60s. I know my music isn't for everybody, but I'm still working hard to open the doors as wide as I can to my private little party."
---
August 2011
---
Stan Ridgway at World Cafe Live, Philadelphia, PA, March 28, 2009
Review by Mark Bonczek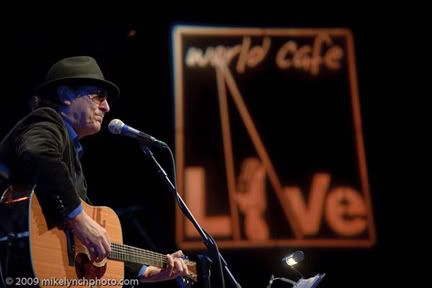 http://nevermindtheposers.wordpress.com/2009/04/12/stan-ridgway-at-world-cafe-live-philadelphia-pa/
I have to admit; I am not too familiar with the extensive 30+ year musical career of Stan Ridgway. In fact, my only real knowledge of his back catalogue is through his former band Wall of Voodoo, who had their sole hit in 1983 with "Mexican Radio", and even with this, I only recognize a handful of songs. Yet, being the 80s fanatic that I am, when I discovered that the great Stan Ridgway was stopping at one of my favorite venues on the planet, World Café Live for his "Desert of Dreams" tour, I knew that it was a show that I had to attend. I considered my lack of knowledge to be a plus when deciding to attend this show, as it would allow me to gain a unique perspective on the set, and allow me to get to know the songs for myself, as if I was having dinner with a brand new acquaintance. And I must say, the show was absolutely fantastic.
He began the show on a humorous note, strolling out casually 20 minutes late, explaining to the crowd, "wow, I really wish someone had came back and told me that it was time for the show to begin. Well, here I am, there you are, so let's get the show on the road". Yet this mild inconvenience wasn't enough to filter out the ever-growing crowd around me, who clammed-up with glee as he took the stage, eagerly awaiting the start of the first song. With his low key band of 3, which included his wife on synthesizers, he decided to break the show into 2 parts, the first would be his more folk-oriented material, running more along the themes of the tour, which he called "Desert of Dreams". With his confident nerd-cowboy voice leading the way, he launched into the show with "The Overloads", which although had soft guitar strumming and dreamy synth bells to carry the rhythm still gave me the impressions of an industrial setting. He continued along the synth-tinged acoustic roads with highlights such as a Bob Dylan cover ("Lenny Bruce"), "Beloved movie star", a song which revealed his humorous wit, with Ridgway talking to his beloved movie star, assuring her that he knows "there's more than cold cream in your jar", finishing up the first set with the rousing "Goin' Southbound", which had the unmistakable feel of a tune one would hear on a road trip, or at a bar just before a fight breaks out.
With the crowd around beginning with the usual fan boy shtick of shouting out requests, he took an audible deep breath, smiled at the crowd and said, "well, I'm not sure about those songs, but I think that the songs I have in mind should be perfect substitutes for yours". This strange sense of humor helped ease the crowd into the second part of the show, where his more familiar material and New Wave classics began to show up in droves. Beginning with the title cut to his debt solo album, 1986's "The Big Heat", he continued the excursion in familiar territory with the title song from the 1983 Francis Ford Coppola film Rumble Fish "Don't Box Me In". Further highlights include his "love letter" to his current place of residence Los Angeles ("Big Dumb Town"), a dream-like, after hours tale of visits to questionable places ("Lonely Town"), and his wild-west cowboy rhythmed tale of a soldier fighting charlies in Vietnam in the popular minor hit "Camouflage".
One of the most interesting moments of the night occurred when it came time to play his biggest hit "Mexican Radio". He started with the offering a humorous aecdote about vacationing in the Caribbean, where he told of sitting at the bar with a drink, and listening to the ambiance, when he heard from the stage the house band playing Mexican Radio in a calypso style. He had wondered what it would be like to cover his own song, and surprisingly asked the crowd if they would be willing to follow along in a musical experiment. And it paid off, as we were treated to a Tex-Mex version of Mexican radio, which offered the feeling of relaxing by a pool during a b-b-q rather than sitting at a nostalgia concert.
It created a perfect segway into "I Want to be a Boss", which humorously describes the fantasizing and wishful thinking that we all do, wanting so much while trying to be grateful for the lackluster things that you have. Saving the best for last, he offered us the electronic robo-western songs "Call of the West" and the unique pulsing cover of Johnny Cash's "Ring of Fire". After wrapping up the show with a 3-song encore that included the crowd favorite "Call Box", he graciously thanked the crowd for hanging out, and invited us outside to meet him after the show. A large portion of the crowd, including myself, took him up on his offer, which was well worth it. And I have to say; he talks almost exactly like he sings.
---
June 2011
---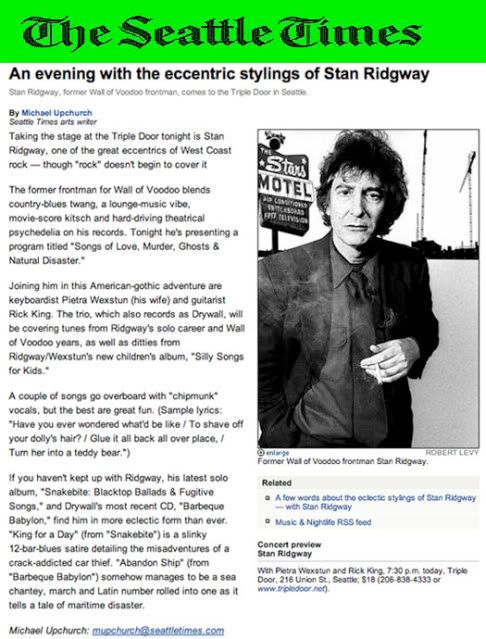 ---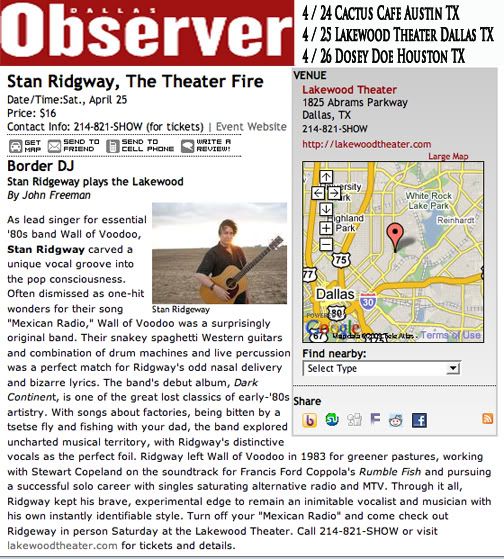 ---
April 2010
---
Stan Ridgway & Pietra Wexstun
"Silly Songs For Kids" Vol. 1
Online Review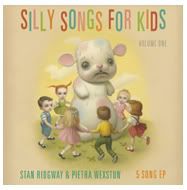 Listen to samples, read more and purchase from this direct link at:
"Silly Songs" CD for purchase @ CDBABY.com
"A Child's Sense Of Wonder And Fantasy"
"One of the world's most original and creative musical couples recently introduced their newest album, and it is aimed at listeners who think Wall of Voodoo is something that Hecate's Angels once used to decorate a Drywall Project. While one never knows what to expect from longtime musical partners Stan Ridgway and Pietra Wexstun, Silly Songs For Kids: Volume 1 may not have come from the proverbial "left field" as one might suppose; it was only last year that the vocalist/songwriter/multi-instrumentalist extraordinaire released a musically superb standards album: The Way I Feel Today (Crooning the Classics). Should children be deprived of what other generations are enjoying?
Established artists who sing tunes aimed at the younger set tend to mellow down their music, losing the very elements that endeared them to fans in the first place. The results of such works are inevitably hollow and offer the impression that the performer(s) in question are being sung down to. This kind of music is invariably accompanied by what it known as the "Disney keyboard sound" — the mellow safe electronic piano backup that we children of the 1980s had become all too familiar with thanks to songs like "Somewhere Out There" from the movie An American Tail, the vast majority of "boy-band ballads" and loads of Celine Dion songs. That kind of sound is not found on Silly Songs For Kids, Volume 1.
Ridgway and Wexstun take the approach that music directed to children can also be enjoyed and sung along to by adults while still charming the young ones. The duo lead off the CD with the impressively bluegrass/jug band reminiscent "Bring It On In the House." Ridgway plucks away at the banjo as he sings the happy tune about taking a car ride to someone's house. He and the rest of the band seem to be genuinely enjoying themselves even though they might have dropped their cake twice according to the lyrics. Ridgway, Wexstun and the rest of the band, which includes Drywall partner Rick King (slide guitar, bass), Ralph Carney (woodwinds) and the zany "Teak" Lazar (credited: sandpaper, complaints), treat youngsters to high quality but kid-friendly music that takes a cue from recent trends in family movies that purposely appeal to both adults and children alike.
Ridgway and Wexstun switch vocal parts in the quirky "Sing Along Song," which could also be titled: 'Fun With the Voice Synth and Ducky Impersonations," "Mountain Top" and the strange-but-whimsical "Jenny's Pixie Garden." The latter two might inadvertently be interesting endorsements for breathing helium, but truly are geared to appeal to a child's sense of wonder and fantasy. For the third track, "Spider's Web," Ridgway employs an eerie tone over a prominent bass, piano and muted trumpet arrangement reminiscent to 1920s jazz. After five tracks of fun on the six-song EP, Ridgway closes with the calming lullaby "Mr. Moon Man," an ode to the Earth's natural satellite on a cloudy evening The songs may be silly, but not campy and patronizing as much of today's music for kids womds up becoming. Silly Songs For Kids, Volume 1 is ripe with the classic Ridgway sound and storytelling that his fans have come to know as well as splendid musicianhip all around from him, Wextun and the band.
One should not be put off from listening to this album by its title. Though the CD is really aimed at children, this well-performed EP should ideally be considered more a masterpiece built for the next generation of Stan Ridgway fans. While parents would do well to have Silly Songs in their library, those without small children around will also enjoy this enchantful offering from Ridgway and Wexstun."
A Review from "Revenge of The 80's"
website: http://www.revengeofthe80sradio.com/?p=302
Album Cover by Mark Ryden
---
July 2009
---
"Keeping it Strange"
One-of-a-kind frontman and Wall of Voodoo mastermind Stan Ridgway
comes to East Hartford By John Adamian ( pic: Mike Lynch)
http://www.hartfordadvocate.com/article.cfm?aid=12161
An Evening with Stan Ridgway
Saturday, March 21, 8 p.m, E. Hartford Cultural Center
Stan Ridgway is an unapologetic eclectic and an unreformed noncomformist. Ridgway, who brings his music to East Hartford's Cultural Center on March 21, logged time as a jazz guy and dabbled in blues and country and just about everything else. He wanted to be a guitarist with Miles Davis's famously funky electric bands in the early '70s. He also wanted to make film soundtracks for second-tier schlock movies, setting up a music company in Hollywood. Now he's making kids music.
You may know Ridgway as the idiosyncratic frontman and voice behind the '80s group Wall of Voodoo. Their song "Mexican Radio" — with its weird mix of noir, vintage rock, harmonica, dub effects and quirky pop — remains one of those oddball one-hit wonders that is still genuinely good, and played on the (American) radio with real nostalgic fondness, more than 25 years later. Ridgway and his unorthodox blend of styles — what he calls his "sonic succotash" — can be heard as a direct forefather of quirky bands like They Might Be Giants and the Mountain Goats. He may have pioneered that clipped, nasally town-crier delivery that became a calling card of "alternative rock."
Ridgway spoke with the Advocate recently from his studio in southern California, as he put the finishing touches on a record of children's music and readied himself for the cross-country roadtrip that would bring him to Connecticut. Ridgway's musical detours have always been interesting ones. As a kid he studied guitar with David Lindley, a wide-ranging guitarist who's backed everyone from Dylan to Curtis Mayfield and Rod Stewart but who's known mostly for his work with Jackson Browne.
Ridgway tells of getting to jam with pioneering cool tenor saxophonist Warne Marsh. Eventually he wound up in L.A. as the nascent punk scene took shape there, bringing together leftover elements of the hippie scene and the underground avant garde. Meanwhile, Ridgway had devoted himself to soundtrack music.
"I rented this office space, and I had all these recorders," says Ridgway. "I got myself a phone with several lights on it, so when people came over they thought people were on hold and business was booming. ... I wanted to build my own Brill Building. I wanted my own 42nd Street. I wanted my Greenwich Village or Paris 1910, but the problem was I was in Los Angeles — still am — and at that time nobody could get anything going musically unless you had a coveted recording contract and were 'professional,' and this thing built up to a point where it was just so constricting to everyone."
His movie music company was going to be sci-fi and cheap horror films, and he called the company Wall of Voodoo. And eventually he spun that into his band with a crew of fellow eclectics from the movie music project as well as from the local punk club. Since then and since "Mexican Radio," Ridgway did end up doing soundtrack music, perhaps most famously with Stewart Copeland of the Police in Francis Ford Coppola's Rumble Fish.
Ridgway has always had a compelling narrative element to his songs, which sound at home next to the sand-blasted California aesthetic of fellow nonconformists like Tom Waits and David Lynch.
"Music has an ability to conjure up images and moods," he says. He calls this tour the Desert of Dreams: A Sandstorm of Song. And he continues to push against expectations with his original material. "It's always a musician's struggle. You have to take the audience, sometimes kicking and screaming, into the new thing. You really just have to spring it on them."
His spirit remains intact. "You have to try out things and do something, or you're just sitting there letting pop culture and the world at large steamroll over your life. That's really the drive, to make something original, to try and throw that custard pie back in the face of the opposition, which is conformity."
---
April 2009
---

Appearing at The Bit & Spur in Sprindale Utah Sat. April 18th.
The Stan Ridgway Trio will present "Desert Of Dreams: A Sandstorm of Song," an all-inclusive show highlighting Ridgway's musical journey from past to present.
Ridgway and his band will perform key songs and music from his career in an intimate acoustic format with Pietra Wexstun (keys, melodica, vocals) and Rick King (guitar, bass, vocals). New songs will be played from his soon-to-be-released solo CD.
Ridgway is one of the most unique singer/songwriters in American music, from his early days with L.A.'s Wall Of Voodoo, to his even more intriguing solo career.
"Music is more than just chords and notes to me, it has the ability to make pictures in the mind," Ridgway said. "My records are designed to be seen as well as heard."
A mad scientist of sound and vision, Ridgway possesses a style unparalleled. Making his musical pictures for almost 30 years now, the singer-songwriter and guitarist has emerged as a singular voice in contemporary song.
As he takes to the road, Ridgway is staging a series of retrospective shows - "Desert Of Dreams" - in honor of more than 25 years of musical mystery from the House of Ridgway. He'll screen his vivid stories starring his classic cast of anti-heroes, dreamers and schemers in the darkened drive-in theater of America.
---