April 2009
---
Stan Ridgway Leaves A Lasting Impression At Boccelli's
Preview and photos by Joe Milliken
Arts & Entertainment / Bellow's Falls VT 3/23/09
American singer, songwriter and multi–instrumentalist Stan Ridgway, who first burst onto the national scene as the quirky vocalist for the Los Angeles art–punk band Wall Of Voodoo and their early 80's hit "Mexican Radio", has forged quite a prolific career as a solo artist.
And thanks to local music promoter/artist Charlie Hunter's Flying Under Radar, Ridgway recently brought his trio to Boccelli's on the Canal in Bellows Falls for a rare, Northeast–New England show.
"When we do come to the Northeast for New York or Boston shows, it's difficult for us to get any farther north than Boston," Ridgway stated in an exclusive Message interview a couple days before the show. "But when we had a few days open before our Northampton (MA) show, we thought it was a great idea when Charlie contacted us about playing in Bellows Falls."
The room was filled to near capacity as a dapperly–clad Ridgway, dressed in a dark suit, gold tie, dark porkpie hat and glasses, and flanked by guitarist Rick King and keyboard player (and wife) Pietre Wextun on keyboards, proceeded to guide his audience through a mirage of urban L.A.–wild west themes and narrative tales of intrigue and human circumstance, but also a very keen balance of dark, underlining humor as well.
The set list offered songs spanning Ridgway's entire song writing career, opening with the rollicking "Goin' Southbound" and "Road Block", before going into perhaps this reviewer's favorite Ridgway solo song "The Big Heat", from his first album of the same name. A song that somehow evokes both dark city intrigue, with a rolling tumbleweed effect shot through Stan's unique harmonica flair.
Ridgway's dry humor, almost mumbled, improvised thoughts and unique story telling ability are almost as entertaining as the music, as he talked about attending an 80's Hollywood party and rubbing elbows (and almost fists) with actor Mickey Rourke, before going into the song "Don't Box Me In", a number written with Police drummer Stewart Copeland for the movie soundtrack to Rumblefish.
"It was just a communication break down," Ridgway wryly said as he peeked out from the top of his sunglasses. "I like Mickey, and I surely didn't want to fight him."
"King Of The Highway" told a funny tale of stealing a car right out of someone's driveway, while a new song from his upcoming CD Dessert Of Dreams: A Sandstorm Of Song revealed an almost Elvis–meets–Hawaiian lounge delivery as Ridgway so familiarly sang out the corner of his mouth.
"Big Dumb Town", written for his hometown of Los Angeles ("You're a little too smart for a big dumb town") was another highlight of the first set.
This sparse trio creates a very full sound with keyboardist Wextum doubling as computer programmer to create various beats, while guitarist King developed his own unique rhythmic embellishments and occasional solo throughout.
The second set opened with the Wall of Voodoo favorite "Factory", before the trio touched upon a variety of textures including his other trio group Drywall with "Robbers, Bandits, Bastards and Thieves", the Wextum–penned "Eve's Ankle", ("Eve got a bad rap") the war-tale of "Camouflage" and a fuzz–toned, tension–filled cover of Johnny Cash's "Ring Of Fire".
Of course throw in the Voodoo favorites "Call Of The West" and a slowed–down, slinky version of the hit "Mexican Radio" and what you end up witnessing is a well–rounded representation of truly, one of the most under–appreciated American singer/songwriters of our generation.
---
March 2009
---
METRO TIMES / DETRIOT MI
SUNDAY • 15 STAN RIDGWAY MUSIC WITH A LIT BENT
Critics love to compare artists with other artists — but that's (nearly) an impossible feat with Stan Ridgway. Although he first landed on an underground pedestal in the '80s, leading Los Angeles sensations Wall of Voodoo (their "Mexican Radio" is still remembered fondly … early MTV watchers will never forget the video which featured Stan's head emerging from a steaming pot of baked beans), his subsequent solo career and albums have found him dunking his noggin into numerous genres — including successful film soundtracks — while intelligently exploring various socio-political elements through his daring lyrics, creating the types of characters that'd be found in novels. He's even been called a rock 'n' roll version of Raymonds Carver and Chandler.
In fact, with the release of his The Big Heat (he's a big fan of all forms of noir) album, Greil Marcus called his work "probably the most compelling portrait of American social life to appear on a rock 'n' roll record since Bruce Springsteen's Nebraska." For his local performance, which he's titled "Desert of Dreams: A Sandstorm of Songs," Ridgway — who'll be performing with his trio — plans to deliver an overview of his career, dating back to Wall of Voodoo material and straight through to his latest critically lauded solo release, Snakebite: Blacktop Ballads & Fugitive Songs.
---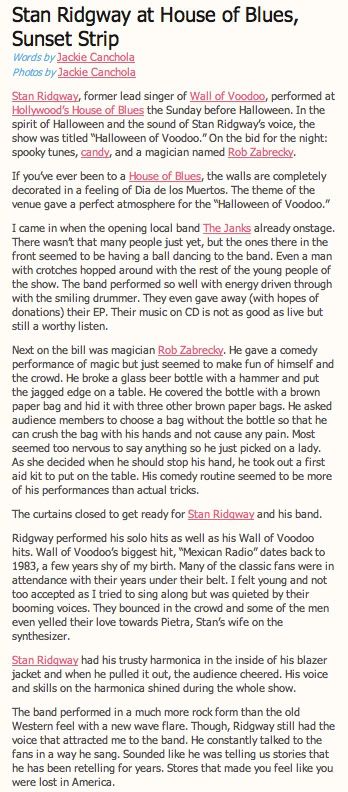 ---
November 2008
---
TEMECULA: Ridgway conjures Voodoo for Halloween
By Scott McDonald - For The Califorian
Wednesday, October 22, 2008
Only certain people are capable of pulling off a Halloween show.
Stan Ridgway is one of them.
The singer-songwriter, multi-instrumentalist and founding member of the new-wave band Wall of Voodoo has an eclectic body of work that from the very beginning has shared a relationship with the spooky and macabre.
"I started by renting an office on Hollywood Boulevard and running a business making soundtracks to sci-fi and horror movies," Ridgway said from his studio in Los Angeles. "Not a lot came out of it, but one day I looked across the street and a punk club called The Mask was starting up. That's where I met the guys with whom I would turn that business into Wall of Voodoo."
Wall of Voodoo released one EP and three LP's before they split in 1983. It was then that Ridgway decided to try his hand at a solo career.
"I left the big record company thing behind years ago," he said. "When you get out of that, the whole world opens up and there's just music. Eclectic is a word that comes up for me a lot. I don't make a whole lot of distinctions between what's country music, what's rock or what's avant-garde. To me, it's all one big stew of sonic succotash. You just stir in and try and make your way with it."
In addition to the solo work, Ridgeway began to score and contribute songs to films. He started by collaborating with Stewart Copeland of The Police on Francis Ford Coppola's "Rumble Fish" and has since worked on over a dozen others. Ridgway believes there are great similarities between film and songs.
"I grew up with 'The Twilight Zone' and ghost stories and all of that," he said. "And I've always thought that songs were visual. If it's a good song, there's usually a lot to 'see' in it. I still find it very powerful. There's something evocative about how a lyrical narrative and music can make something that can take you on a journey for three or four minutes."
Ridgway's solo career has been a journey of producing releases with a broad spectrum of different styles ranging from traditional and experimental albums to cinematic and big band albums. Most recently, he and Pietra Wexstun released a six song EP of silly songs for children. It was inspired by time spent with nieces and nephews. While it's all part of his aforementioned stew of sonic succotash, it's also part of his fundamental belief that re-invention is paramount.
"I've always been excited by music and I'm always trying to do something new," he said. "I'm frustrated by so much of the mediocre these days that I feel like I have to make something of my own and throw it at the horizon. Or else I feel like I'm just being crushed under the wheel."
Ridgway won't be trying to re-invent very much when he brings his "Halloween of Voodoo" show to Wiens Family Cellars on Friday night. He just wants the audience to have some fun.
"These shows will be fun because of the holiday themes," he said, "but it will also be fun to re-visit all of the solo and Wall Of Voodoo songs that I haven't played in a while. This will probably be the last time we'll be playing them for a spell. I'd like to concentrate on a new record for 2009."
Ridgway wants the mood to be festive and is encouraging all fans to come dressed in costume. He will lead by example and promises that the entire band, as well as Sirius radio special guest host Richard Blade, will don costumes.
"We'll probably be dressed as undertakers," he said.
When the tour is over Ridgway will go back into the studio to work on new songs that will be slated for a 2009 release. He is happy to be back creating original material, and while he didn't go into great detail about the new project, it promises to draw from his extraordinarily wide range of influences.
"All you can really do in life is try to get better," he said. "I'm quite grateful to be involved in music and that the energy and passion are still there. I feel really fortunate to still be so obsessed with songs and music."
Link: http://www.nctimes.com/articles/2008/10/22/entertainment/music/zb246e7ec25fefb6f882574e90067656a.txt
---
October 2008
---
Concert Review
Stan Ridgway and Band @ McCabe's Concert Hall / Santa Monica CA
By Anthony Miller
Stan Ridgway's songs tell stories of the kind Mark Twain describes in his "How to Tell a Story" – humorous, incongruous, indisputably in the American grain – replete with characters speaking as if entirely in cryptic pick-up lines, hatching schemes and imagining masterplans that can only go awry, engaging in getaways, pushing their luck and offering explanations for the deals that transpire without them.
"Behind every fortune," thinks a character in Ridgway's "Down the Coast Highway," echoing a famous statement of Balzac's, "there's got to be a crime." Then there's the storyteller's unmistakable delivery, ranging from the deadpan to the deranged, with bursts from his harmonica to fill out the landscapes.
As he warbled his funny, eerie and melancholy tunes at McCabe's, Ridgway was utterly captivating, even when he tuned his guitar or unraveled a microphone cord from his mic stand.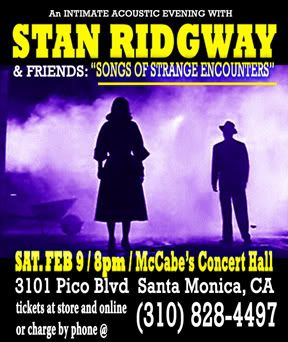 Accompanied by Rick King on guitar, Amy Farris on viola, Joe Berardi on percussion, and Pietra Wexstun on keyboards, Ridgway performed older numbers like "Calling Out to Carol" and "Peg and Pete and Me" alongside "Wake Up Sally (the Cops are Here)" and "King for a Day" from what he called his "latest opus," 2005's Snakebite: Blacktop Ballads and Fugitive Songs.
The former Wall of Voodoo frontman performed slowed-down versions of his '80s hit "Mexican Radio" and "Camouflage," his tale of a soldier's encounter with a benevolently belligerent poltergeist in the Vietnamese jungle. He delved into "deeper Tarzana" with "Knife and Fork," a declaration of love where cutlery has never sounded more amusingly lurid.
His stirring version of "Underneath the Big Green Tree" was among the best songs of the night and probably the best of the songs taken from his underrated 1995 Black Diamond. Riding along with Ridgway's songs, the audience traveled all over the map, stopping to check out a carnival here, a roadblock there and finally a madcap barbeque, (Ridgway and side project Drywall's 2006 "BBQ Babylon") before a grateful Ridgway put on the brakes, offering his thanks to the crowd.
http://www.campuscircle.net/review.cfm?r=3446
---
December 2007
---

---
October 2007
---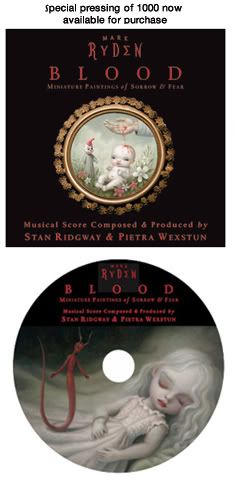 Stan Ridgway / Pietra Wexstun
CD Soundtrack for Mark Ryden's "Blood - Miniature Paintings of Sorrow And Fear"
A440 Records Special Release 2008
All Music Guide
The latest release by Stan Ridgway pairs him with vocalist Pietra Wexstun, of Hecate's Angels. Together they have composed a soundtrack for artist Mark Ryden's latest series of paintings, entitled Blood, and the music accompanied the paintings as an installation at the Earl McGrath Gallery in New York in 2003. For those unfamiliar with Ryden, he is the now notorious painter whose work is an obsessed amalgam of pop culture kitsch and surreal darkness, ... From bunnies carving meat, to little girls in repose waiting for something bad to happen with a look of cool, dead reserve, to pictures of longing where sorrow, hipster detachment, and dread all commingle, Ryden's work isn't for everyone but then neither is the composer's. Musically, Blood harks back to the work of the company named Acme Soundtracks that Ridgway created before he became Wall of Voodoo. It's spooky, striking, and deeply atmospheric but lush and melodic, all at the same time. Don't look for grimacing ambiences influenced by Brian Eno here; this is music that broods, sings, whispers, and slithers. There are lush moments of physical beauty followed always by deeper, more sinister emotions. Vocalist / composer Wexstun's wordless voices add so much to the Ridgway compositional method that they layer another dimension on to the tracks and give them a more melancholy or alternately ecstatic feel. For fans of Ridgway's Western noir songwriting, this will be a stretch, but it ought not to be; this is a soundtrack that is cohesive, compelling, and more than a little unsettling. Great!. Thom Jurek (All Muic Guide)
---
Article: The Californian 10/27/07 - Wall of Voodoo's Stan Ridgway Works His Magic
at Temecula's Lonshadow Ranch Winery
By: ERICA SOROCCO - For The Californian
More than 25 years have passed since Stan Ridgway ---- frontman for the band Wall of Voodoo ---- sprang onto the music scene, capturing the ear of listeners young and old.
Though much time has passed, Ridgway still finds fans crowding in close to hear him sing some of the bands biggest hits. This alone makes his Friday appearance at Temecula's Longshadow Ranch Winery ---- titled Stan Ridgway Celebrates Wall of Voodoo's "Call of the West."
"This show is a celebration of Voodoo's 'Call of the West record,' " Ridgway said. "It has been 25 years since the release, so it's a good time to revisit it, rally the troops and march to the mountaintop, light a beacon, plant a flag, give everybody a rubdown, fire up the barbeque, and then march on into the future, huh? There can never be another Wall of Voodoo like there was, but the music is still with me and my band here, and we have been having a blast playing. It's quite a show, and it has been really fun. Lots of old friends and new are coming out to the shows." While Ridgway's band, now consisting of Ridgway on harmonica, vocals, and guitar, Pietra Wexstun on keyboards, electronics, and vocals, Rick King on guitar, bass, and vocals, and Joe Berardi on drums, percussion, and electronics is not made up of the original members, the new line-up works side-by-side with Ridgway to keep the Wall of Voodoo spirit alive.
Though the band toured all summer, the time spent didn't cut into the amount of time that Ridgway spent penning lyrics.
"I'm always writing a song somehow ---- either in my head or recording ---- and I'm never really sure where they come from, you know?" Ridgway said. "Sometimes it's a mystery how it all gets done in the end. Songs are kind of like therapy for me ---- or maybe a puzzle I'm trying to solve ---- but there's a piece missing, so I just rearrange the pieces into something new. I tend to let my subconscious do the driving, and I ride shotgun and watch out for oncoming traffic."
Ridgway got his start in music when he began a Los Angeles-based film score business known as Acme Soundtracks ---- a corporation which later found itself morphed into the New Wave band Wall of Voodoo.
He was raised in Los Angeles, and always had a soft spot for Southwestern Goth. A passion which led him on a path through electro-art, and punk, before finally finding his niche in a combination of rock 'n' roll and blues. Even Ridgway himself believes that his music is always evolving and being taken to new heights.
"My music has evolved over the years, and I'm always learning something new about music and writing songs," Ridgway said. "It's not a bad way to spend your time really; and I'm still just as excited about it as when I first started out. I'm always just trying to get better really, and that's pretty much it. I feel it is a privilege to play music for people, and I'm always thinking of where to take it next, and give folks a surprise."
Wall of Voodoo emerged on the scene back in 1980, with their debut, self-titled EP, but it was their second full-length album, "Call of the West," which finally gained them the recognition they were hoping for.
The album contained the smash hit, "Mexican Radio," which made a splash on the then-new MTV. Ridgway, however, feels that, while "Mexican Radio" is their best known song, "Call of the West" actually contained many more ear-pleasers that were overlooked, hence his reason for wanting to celebrate the album which started it all.
"I always felt the record had a great calling card in 'Mexican Radio,'" Ridgway said. "But there's a lot more than that on the record. It opens up into a lot of paradoxical issues of success, failure, discovery, getting lost ---- going out someplace that's so barren and lost you just might find yourself there. They're old themes about what it takes to make a new beginning, and how promises are illuminated in such a way that attract people, but they're not always real. They're just myths, or maybe like a desert mirage."
A mirage that takes you on a musical journey, and that's exactly what Ridgway intends when he puts his heart into a song. Unlike some, Ridgway does what he can to paint a picture for the listener. To give them the ability to hear the music, and create a vision that can accompany it. A talent he learned from studying, and soaking up the sounds of musicians from all over the world ---- from folk to rock and psychedelics to European soundtracks ---- which have inspired him to change it up a bit, and create something all his own.
"I've been playing a lot more guitar these days, and really getting back into it," Ridgway said. "I've always been a fan of the style of guitar like in the Ennio Morricone soundtracks, like "The Good, The Bad, & The Ugly." We'll be doing a medley of some of those tunes in the show, as well. I'm just a sucker for a big, twanging guitar sound like that, and Dick Dale, too. Although you'll never find me on a surfboard. I'm more of an inner tube guy." - The Californian
---
Stan Ridgway & Band at Longshadow Ranch
39847 Calle Contento, Temecula, CA October 26-6PM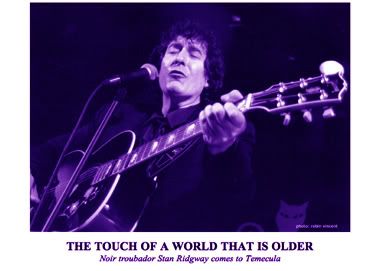 10/26/07 - BY TODD S. JENKINS / INLAND EMPIRE WEEKLY
http://www.ieweekly.com/music.htm
Back in 1982, Wall of Voodoo singer/songwriter Stan Ridgway's quirky, nasal voice burned its way into the American consciousness through an unlikely outlet—"Mexican Radio." The catchy but strange song about befuddled tourists, from the band's album Call of the West , was an unexpected smash hit, and Ridgway still considers it more of a blessing than a curse.
"It's not really an albatross to people who know the rest of what I do," he says. "People who want to somehow assume that the association with that song is like I'm in some dark room lamenting it, they're just ignorant. To me, the song was simply a calling card for that record. And it fell in a certain era when MTV was just beginning, and it's still a first impression for a lot of people. There's really no way of battling a first impression, and whether they follow anything after that . . . I mean, why should they? I just try to use it and not have it use me. It's our 'Wooly Bully,' really. I still enjoy singing it because it's balanced enough, in a kind of enigmatic way that appeals to me."
Ridgway's present quartet is comprised of longtime friends—electric guitarist Rick King, keyboardist/vocalist Pietra Wexstun, and drummer Joe Berardi, with of course Ridgway himself on throat, guitar and harmonica—and they'll be playing a colorful mix of vintage and newer material. "On this show we're going to kind of spread it out. This last summer we did the 25 th anniversary show for Call of the West , and in Temecula we're going to do it again but with more stuff. Since we're between albums here, we're trying to do a little bit from every era."
Despite still feeling good about "Mexican Radio," Ridgway has difficult memories of the Wall of Voodoo period. On Snakebite: Blacktop Ballads and Fugitive Songs (Redfly), his latest solo album, he takes a cathartic look back with "Talkin' Wall of Voodoo Blues, Part 1." The song covers the history of the Wall, from their garage-band roots through I.R.S. Records' wallet raping and their ultimate demise. Ridgway left the band after the 1983 US Festival in Devore and pressed on. He says, "It could be a cautionary tale—the music business can drive you crazy. I'm grateful to still be excited about making music. And once you fall out of the hit machine you're free to do anything you want."
Ridgway has used that freedom to create several amazing albums over the years. He comments that while he's best known in the US for "Mexican Radio", he had an even bigger hit in Europe with "Camouflage," the tale of a ghostly Marine, from The Big Heat (I.R.S., 1986). Now he's riding high with a number of unusual releases that hardly seem like they came from the same mind.
Snakebite is an acoustic-tinged collection of his typically sardonic writing: a pissed-off, joyriding ex-lover in "King for a Day," or the dark celluloid dreamscape of "Classic Hollywood Ending." He even tosses in a bizarrely appropriate cover of "Monsters of the Id", originally by Mississippi jazz-blues singer Mose Allison. Barbeque Babylon (Redfly) is the latest from his psychotic side project, Drywall. "Goin' on Down to the BBQ" sounds like some meth-fueled collaboration of Tom Waits and Beck, and it gets wilder from there. Blood (A440 Records) is the murky instrumental soundtrack for an art exhibition by cartoon-Gothic painter Mark Ryden, and it sucks you in like the vampiric images the music was created to buoy. And then there's The Way I Feel Today (CDBaby.com), Stan's nod to the lounge/standard craze, wherein he offers his tongue-in-cheek takes on chestnuts like "Witchcraft," "Send in the Clowns" and "Old Man River"!
These disparate records are puzzle pieces; together they portray a peculiar, funny man who laughs ironically at much of life. "In America there's a sense of the loss of ability for ironic contemplation," he says. "People tend now to think more in terms of black and white—the ability to balance and weigh two thoughts, two decisions, has largely been lost. It's the way people divide people, but I think a lot of people are fed up with it."
His influences—people like Waits, Rod Serling and Randy Newman—have never feared irony, and it's still a prime tool in Ridgway's songwriting bag. So is characterization, which gives his song-stories a cool balance of film noir darkness and crazed Tarantino immediacy. And for Ridgway, creativity is the heart of it all. "I didn't start doing this to make money. I use it as a way to commune. It's really kind of a pact you make at a certain age, if you're going to be a creative person. In good times and bad, you're going to keep that string of creativity attached and not worry about other things."
- MORE...http://www.ieweekly.com/music.htm
---
September 2007
---
USA Tour 2007 -"Stan Ridgway celebrates Wall Of Voodoo's Call Of The West" - Article from the Austin Chronicle - Cactus Cafe, Austin TX Jul 23 – 24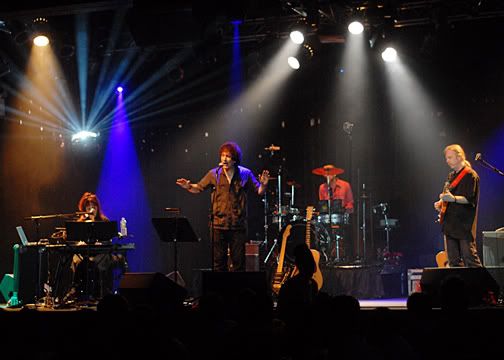 "It's been 25 years since L.A.'s Stan Ridgway and Wall of Voodoo released Call of the West, and that calls for a drink. The album's dusty, Barstow-to-Bakersfield, Ross Macdonald-meets-Edward G. Ulmer in a Death Valley Detour to nowheresville title track and grimly optimistic film noir narratives still reverberate across the musical Route 66 Voodoo frontman Stan Ridgway paved, roadkill and all. It's the closest musical approximation yet of that hardscrabble, postwar, westward wanderlust to rush headlong into the unknown, "And above all to get a fair shake, to get a piece of the rock, a slice of the pie, to spit out the window of your car and not have the wind blow it back in your face ... ." Ridgway's post-Wall of Voodoo output has, if anything, cemented his neo-noir rep as one of American music's great storytellers, the wild and wily Steinbeck of sad whiskey railroads and rusted, ramshackle American dreams.."
- Austin Chronicle
---